NEW CONVEYOR COMPONENT SUPPLY
CONVEYOR BELT CLEANING SYSTEMS
Reliable supply a full range of conveyor belt cleaners and associated components.
Our belt cleaners are compatible with vulcanised and mechanically fastened conveyors both above and below ground. The belt cleaners are manufactured from stainless steel and are interchangeable with other major brands.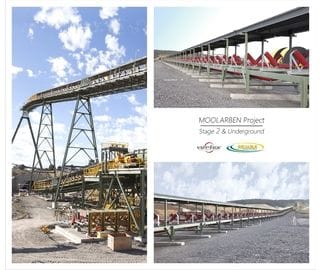 THE RANGE OF PRODUCTS INCLUDES:
Primary Belt Cleaners - Polyurethane or tungsten tip.
Secondary Belt Cleaners - Both single and bi-directional.
Spray Bars - For belt cleaning and dust suppression.
Water Control Manifolds - To regulate water sprays.
Vee Ploughs - Remove refuse material from return side of belt.
Reliable Conveyor Belt is a leading supplier of high quality engineered conveyor rollers, idlers and accessories.
The company brings together world class practice to deliver cost effect high speed quality balanced rollers and idlers suitable for today's heavy mining practices that include large tonnage and high speed conveyors. Reliable is the national distributor of the Vortex range.
Reliable supply a full range of conveyor belt including Steel Cord Ply (including Fire Resistant).
Reliable carries over 3,000mtrs of belt in stock including belt specs that will meet many of your needs.
Heat and oil resistant belting, filter belts, bucket elevator belting, sidewall cleated and chevron belting to name a few.
Our "QuarryPlus" range of belting - specifically developed to meet the needs of quarrying and cement applications.
Rubber insertion, skirting and chute lining.
Reliable offers a range of conveyor skirting systems for various conveyor applications. Our systems are modular, easy to install and maintain and offer extended service life via all our stainless construction.
Reliable offers a diverse range of conveyor pulleys precision manufactured to the highest standards. These high standards ensure product suitability, reliability and performance while reducing maintenance costs.
Products available include, drive/high tension pulleys, Tail, take-up and snub pulleys, spiral pulleys (self cleaning), wing pulleys (self cleaning), slatted pulleys and flat or crowned.